Free 45 Page Ebook
The SoSuave Guide to Women and Dating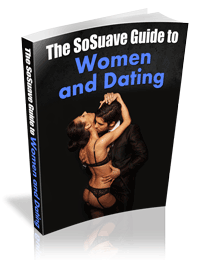 No fluff. No nonsense. No magic spells.
Just simple practical tips on meeting, dating, and attracting women that are guaranteed to work.
In this FREE 45 page ebook you will learn:
How to talk to women and create sexual chemistry.
How to project confidence and attract women to you like a magnet.
How to keep a woman interested in you... forever!
The simple secret of being almost completely irresistible to women that almost no one knows.
How to never be nervous around women again.
And much more...