Learn the 22 Rules for Massive Success with Women
And You Don't Have to Be Rich, Famous, or Good Looking...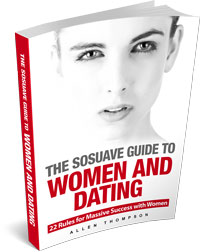 Chapter 1 – How to Talk to Women. What to say and how to say it. After reading this short chapter you will know everything you need to know to intrigue and fascinate any woman, no matter how beautiful she is. And let's face it... if you can't talk to a womann, if you can't make her eyes light up with excitement when you speak, you are never going to be successful. Talking to women is the most basic – and perhaps most important – skill you will ever learn.
Chapter 2 – Become Irresistible to Women. Next I reveal how you – yes you! – can become instantly attractive, instantly intriguing, and instantly irresitible to women. This is the most important thing I've ever learned about women. It changed my life and it can change yours too.
Chapter 3 – The Biggest Mistake You Make with Women. This is a killer. Stop doing this. If you do nothing else but read this chapter and follow the simple tips, you will improve massively. You will begin to ooze charisma and women will become magnetically drawn to you.
Chapter 4 – Super-Charge Your Confidence with Women. You will never be nervous around women again after reading this chapter. After all, it's hard to be suave and charmismatic when you're shaking and sweating and stumbling and bumbling. If you get nervous around women, the info in this chapter could save you from a lifetime of misery.
Chapter 5 – How to Keep a Woman. What's the point of doing all the hard work to find and charm and seduce an awesome woman, if it's just going to end up in heartbreak – when she dumps you. In this final chapter I reveal how to keep a woman liking you, loving you, and wanting you... forever.