How To Dress For a Fancy First Date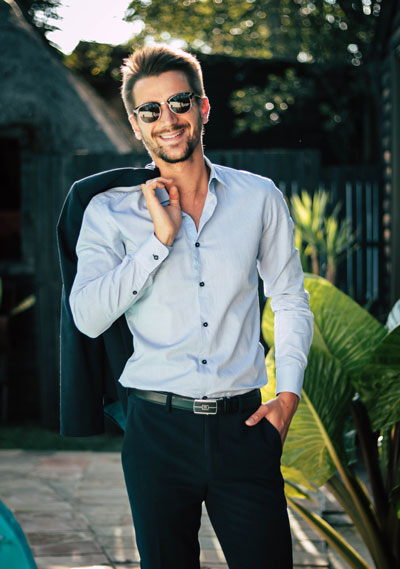 The average person needs just four minutes to decide whether he or she is clicking with a love interest during a first date, according to a study from Stanford University.
Since chemistry happens (or doesn't happen) in mere minutes, you will boost the odds of enjoying a successful first date by honing your personal style.
Fancy first dates have upscale dress codes. To shine on a fancier first date, you need to know how to get the look: the key to making an amazing first impression.
But great style isn't always about money. It's about knowing what's appropriate, choosing separate pieces that flatter your body type, and accessorizing to show a little bit of personality.
How Dressed Up Should You Get?
How you're planning to spend the first date will dictate just how dressed up your look should be.
Maybe you're planning to take your date to the best restaurant in town. If so, find out what's appropriate by Googling the eatery. There should be plenty of photos of the restaurant with patrons inside. Look for pictures at the official restaurant website and on review sites, and check out what the guys in the pictures are wearing.
Are they in suits worn with accessories, such as bow ties or neckties, or are they wearing dress shirts and pants? Maybe they're wearing designer jeans and fashionable shirts?
If you can't find online galleries from the date venue, whether it's a restaurant, a theater or whatever, don't worry too much. It's easy to call a date venue and inquire about the dress code.
When you find out what's appropriate ahead of time and plan your outfit accordingly, you'll feel much more confident during your date. You won't stick out like a sore thumb because you're not dressed appropriately.
Fancy can mean different things. It's always about making an extra effort, but what fancy means varies from setting to setting.
Consider Your Body Type
If the date venue is very fancy, you'll probably want to wear a light grey, charcoal, navy or black suit, plus a white shirt. You can always remove the suit jacket if you feel too dressed up.
In general, it's a safe bet that the right suit will make you feel confident and powerful, but for this to work, it should be a suit cut that's right for your body type.
Whether you spend a lot or hunt for a cheaper suit, a suit that works with your body type will be a great investment piece, which you'll turn to again and again, whenever you need to impress.
You may be an ectomorph, who is slim and tall. This body type looks best in straight-leg pants with slim cuts, slim-fit blazers and shirts with spread collars.
You might be a mesomorph with a larger body frame and defined muscles. Mesomorphs are the medium body type. They look good in pants with straight legs, jackets with wider shoulders and slim waists, and shirts with typical point collars.
The third body type is endomorph. It's a stockier body type. Go for relaxed fit pants with straight legs, choose a jacket with structured shoulders, and wear shirts with subtle vertical stripes.
Add Accessories to Personalize the Look
Once you have your separates, have fun by choosing a tie that that you love. For best results, choose a tie in a color that suits your skin tone.
If you have cool, pinkish undertones, you'll look great in a pink, pale blue or plum tie. If your skin tone has warm yellow undertones, go for a tie in sunny yellow, amber or spring green.
Add other accessories that you like, such as cuff links or a ring. Show a bit of personality. Make sure that your accessories are very "you".
When you follow these tips, you'll be ready to make the ultimate first impression on a fancy date.
You'll be wearing the right kind of outfit, and your suit will flatter your physique.
Your accessories will tell your date a little bit about who you are.
Once you've got your outfit handled, you'll be ready for diverting chat and lingering eye contact.