Seducing Your Date Through Her Senses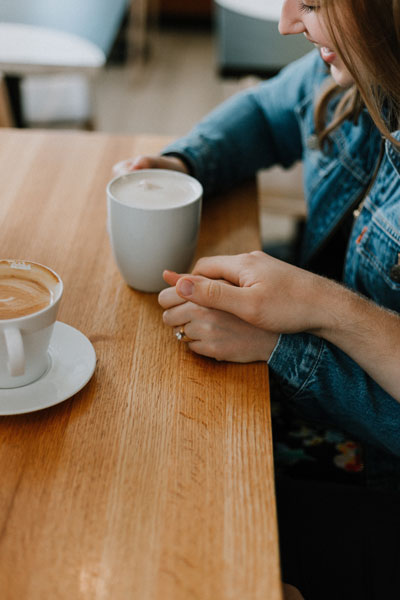 If you've been dating a special lady you've had your eye on for a while and you are keen to definitively exit the friend zone and boost the romance factor, make sure you seduce her through her senses.
Numerous scientific studies have shown that stimulating the senses not only increases attraction between people, but also helps to sustain a sense of self.
One study published by researchers at the Neuropsychoanalysis Foundation, for instance, showed that when someone slowly caresses or strokes you, it boosts your brain's sense of body ownership and helps you sustain a healthy sense of self. Of course, touch is just one of the many senses.
How else can you turn your lady on through the senses, while reaping all the benefits of your actions simultaneously?
Scintillating Scents
Smell is important in close romantic relationships, as found by scientists from Stockholm University.
The familiar scent of your partner's body can boost your sense of security and make you feel calmer.
However, environmental smells also affect your mental state. For instance, research has found that lavender essential oil can calm you down, while citrusy scents like orange, bergamot, or peppermint, can help you feel more alert or energized.
The next time you have your date over, try diffusing therapeutic grade essential oils known for their sensuality — including patchouli, sandalwood, rose, jasmine, vetiver, and neroli.
Another way to fill your environment with sexy scents is via scented candles. Just make sure you buy natural beeswax or soy candles that contain therapeutic grade essential oils. Synthetic fragrances don't cut the cake in the same way.
Sensual Flavors
Foods like figs, avocados, and bananas are all considered libido boosters, since their vitamin and mineral content can increase blood flow to the genitals.
For a special date, however, take it to the next level by doing more than feeding them a tray of oysters.
Consider making chocolate together. Chocolate promotes the release of feel-good hormones like serotonin, which can have aphrodisiac effects.
Moreover, you can make a tray of chocolate in just five minutes. All you need is cacao, cacao butter, sugar or Xylitol, a pinch of salt, and a drop or two of yor favorite edible therapeutic-grade essential oil. Raw chocolate (i.e. chocolate that is only very slightly heated) is ideal, because this type of chocolate contains more antioxidants than processed chocolate.
Calming Sounds
Studies have shown that specific sounds (including the sound of water flowing) calm human beings and trigger a response in the brain that induces a flood of neurochemicals. These chemicals increase blood flow to the brain and heart, zapping stress away in an instant.
It's so easy to recreate the sound of a beautiful waterfall at home. Just buy a small indoor fountain or play an MP3 of gentle sounds like rain while you are making chocolate or caressing your special girl.
To put your loved one in the mood for romance, pull out all the stops when it comes to pampering their senses. Make sure your home is filled with the scent of sexy essential oils. Relax your loved one and yourself with the sound of water, preferably from a beautiful indoor stone fountain.