Tips on Dating a Girl Who Loves Video Games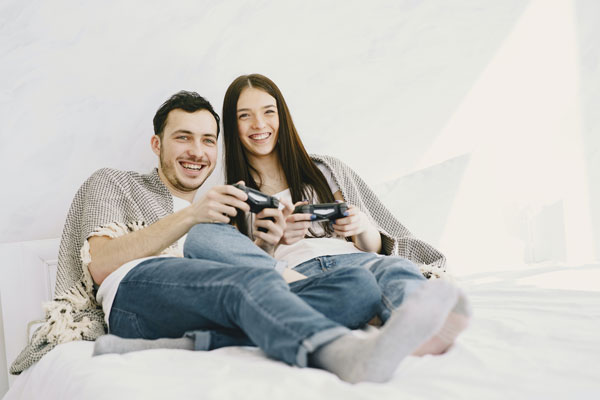 More than 200 million people in America regularly play video games, and surprisingly, 45% of them are women.
The number of female gamers has risen in the last ten years, and the odds of you asking a girl out who likes games is high.
If you want to date a girl who is a serious gamer, it will help if you share and understand her passion for playing. Spend some time swatting up on her favorite games, and then you can enjoy some chill out time together that is low pressure.
There are some big advantages to dating a gamer girl - she'll certainly never give you grief about having your own personal time in your relationship, and she'll be good fun.
Embrace Gaming
One of the good things about video games is that there is always something to talk about. From tips and strategies to the new games coming out, the subject is endless. If you embrace gaming too, you will never run out of things to talk about.
If your girl is a fan of role playing games like Final Fantasy, download the game and set up your own profile. Spend some time learning about the Final Fantasy characters and the storylines. You can then play the game online together, even when you're apart.
Don't forget that gaming is just like any hobby, it's entertaining and good fun, and you might learn something new. What you shouldn't do is try to deter your girl from video games or resent the time she spends playing. Just because she wants to play a bit of Fortnite doesn't mean that she doesn't like you any less.
Go On Some Gaming Dates
If you really want to impress your gaming girl at the start of your relationship, take her on some gaming-themed dates. She is likely to appreciate this a lot more than the classic dinner and a movie.
You could go to a Virtual Reality (VR) room and enjoy some arcade games or a VR escape experience. Or book a trip to go to a gaming convention. These kinds of dates are low-pressure and will give you both a chance to get to know one another.
Get On With Your Own Hobbies
If your gamer girl wants to get on playing her games and you're not up for it, leave her be - get on with your own thing. Being clingy or jealous of the games won't do anyone any favors.
In many ways, you've got your dream girl, she's not going to be stressed if you want an evening having a beer with buddies while she stays home and plays World of Warcraft. Having more personal time within a relationship will make the time that you do spend together even more special.
Gamer girls are smart, creative, imaginative and have passion. If you are lucky enough to date one, embrace the video games - you will always have someone that wants to play with you.