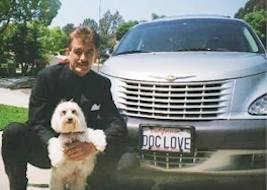 Success Coach - Doc Love
Women Don't Lie - Men Don't Listen
Success Coach - Doc Love
Guys, e-mail me at doclove@doclove.com with your love challenges. All will be answered, but because of space, only letters of general interest will be printed. To find out more about The "System" visit me at: www.doclove.com or (800) 404-2644.
Doc Love is a talk show host, entertainment speaker, and coaches men in his seminars. For the past thirty years he has asked thousands of women, "Why do you stay with one man versus another?"
Do Men Who Understand Women Have a Game Plan?
Guys, Has a Woman Ever Bewildered You With Any of These Lines?
Would Hef Care If Her IQ Didn't Break 100?
Should a Guy Ever Get Involved With Anne Heche?
Does Terrell Owens Ever Have Trouble With a Girl's Parents?
What Does Kevin Spacey Say About His Exes?