Is It Time to Buy Your Girl Her First Diamond?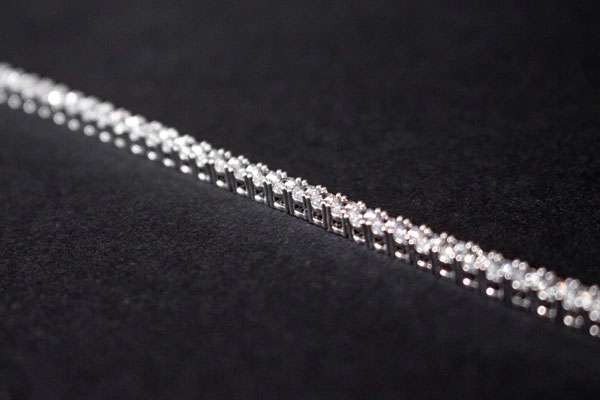 Cecil Rhodes, the visionary founder of De Beers, once said that a diamond's value is inexorably linked to its association with love and romance.
If you've been dating your soulmate for a few months and you feel like the timing is right, why not say 'I love you' with a little sparkle?
Diamonds are definitely not just for engagements, and they don't have to make a statement. Rather, they can simply say one important thing: you appreciate the finer things in life and wish to share them with the one you love.
What considerations should you bear in mind when making your very first purchase?
Diamonds Should Be Kind
Chances are, one of the things you most love about your lady love, is how caring she is and the way that she takes care to make sure that everything she buys is ethical - including gems and diamonds.
It's easy to get it right: just make sure that the jewelry company you are buying from can trace their diamonds back to an ethical source.
To play it really safe, you might decide to go for synthetic diamonds with the same shine and quality as naturally mined ones. These are made with no risk to miners or the environment, so they're a great option for the girl who wouldn't dream of sporting anything other than 100% guaranteed ethical bling.
Measuring Clarity And Color
If your girl is as savvy as you tell your friends she is, then the chances are, she will know how to tell the quality of a diamond.
There are two important pieces of information she may ask you, and you should know the answer. One is the official clarity (transparency) of the diamond, and the other is its color.
Clarity is graded on a scale ranging from flawless to 'slightly included' (i.e. slightly imperfect).
Diamonds also have a color chart (called the GIA chart). This scale starts at D (colorless) and goes all the way to Z (light color). If you are opting for a transparent diamond, go for D-F (colorless) at least. Although there are differences between these three ranges, they cannot be detected by an untrained eye.
Diamonds Don't Have To Be An Investment
If your budget doesn't match the size of your interest in your girl, you can still give her a diamond: the only thing that will change is who you buy it from.
These days, savvy designers are aiming at younger markets, creating everyday diamond jewelry in styles like pavé (a setting featuring a plethora of tiny diamonds together that look feminine and sparkly without costing as much as a one- or two-karat ring).
Some designers even set diamonds in materials like silver or vermeil in lieu of the usual gold or platinum. These pieces will actually last relatively long provided they are not subjected to perfume and harsh products, and best of all, they can be purchased for a few hundred dollars (sometimes as little as $100). These items are a nice touch for birthdays and other occasions, as they are often set in youthful, modern settings that are favored by fashionistas of all ages and tastes.
Everyone loves a bit of sparkle in their lives - whether in the form of delicate pavé semi-precious jewelry or high-quality, rock-type diamond rings.
If you're purchasing a diamond for a serious occasion like an engagement or anniversary, looking at aspects such as clarity, size and color are vital.
Regardless of the reason, find out where your diamonds are coming from, ensuring fair working conditions and sustainability are core values of the companies you support.